Browsing all articles from November, 2010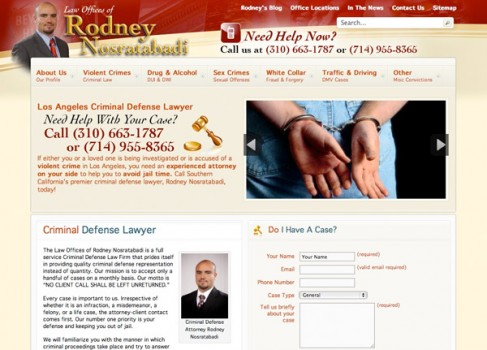 Law Offices of Rodney Nosratabadi, a Los Angeles & Orange County Criminal Defense Lawyer.Site features include front page sliding information, SEO pages, custom contact form and a personal blog and news section.
Services Provided:
Custom website design with Front page slider, blog, basic information pages, and SEO structure.
Just because I love them so much, here's a coupon code link for you to get a domain name at discount price form Godaddy.com. I got to say that Godaddy is probably the best domain name registar bar-none! Their service has been excellent as can be and I pretty much have all my domains and clients registered through them. Their hosting and other services are also execllent and very cheap compared to others. Try the special discount link below to try them out and get a cheap domain for yourself today!
Coupon Code Link: Go Daddy $7.49 .com Sale! but it only works if you click on this link or do your domain name search directly here:
Because of my need for speed, I made a quick little plugin as a companion to the cool plugin "Shortcoder" by Aakash Chakravarthy. It was also a requested feature, but I guess I couldn't wait, so I made it myself. So this plugin adds a nice "Shortcoder Insert Tool" on pages and post to help quickly and accurately add the any shortcodes into the editor using settings from Shortcoder. It's required to have the original "Shortcoder" plugin already installed (& activated of course) and have at least one shortcode setting saved for this tool to be of any use.